Artist Reception: "California: Creative Couples"
April 3, 2014 @ 18:00

-

21:00

Free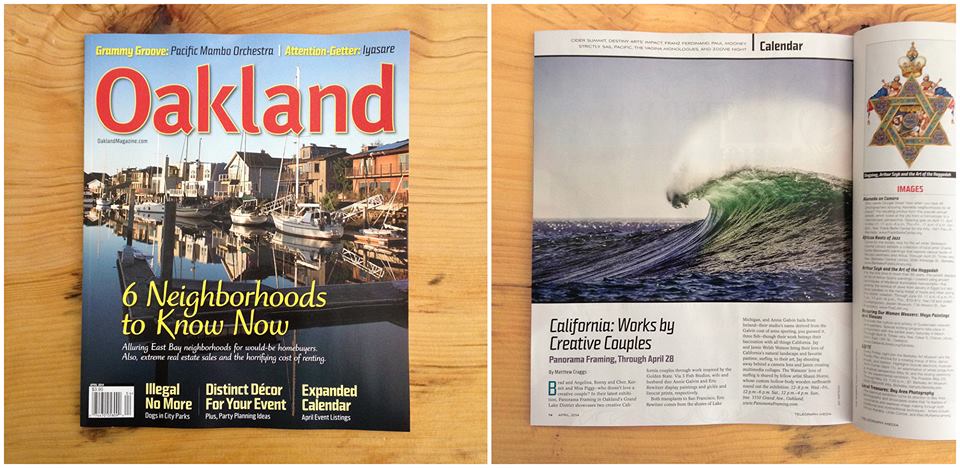 First Thursday Art Reception
"California: Works By Creative Couples"
We're excited to be showing original paintings & fine art giclée & linocut prints by Eric Rewitzer & Annie Galvin of 3 Fish Studios; along with surf & skate photography, multimedia, and prints by Jay Watson & Jamie Welsh Watson . Also on view are custom hollow body surfboards by Shaun Horne.
Come on by and meet the artists, have a refreshment, and maybe find a piece of California to fall in love with! As if you didn't already love California… 😉
This coincides with First Thursdays on Grand Avenue, so don't forget to check out what our neighbors have going on too!
About the Artists
Jamie & Jay
Jamie Watson studied printmaking at San Jose State University and has been passionate about it ever since. Jamie's process is intuitive, guided by color and emotion. A California native, she is often inspired by nature and a love of surfing.
Jay Watson is a commercial photographer specializing in lifestyle, sports, and environmental portraits. When he is not daydreaming about building a log cabin, he is working on assignments for editorial and advertising clients.
Much of Jay's professional and personal work is influenced by California's culture both past and present. His photography has been featured by Lexar Media, Nikon, and the International Photography Awards.
Annie & Eric
Annie Galvin was born and raised in Ireland. She worked as an illustrator in a Dublin agency before moving to San Francisco in 1989, two weeks before the earthquake. Annie is inspired by San Francisco, Vogue magazine, comic books, Josef Frank textile designs, gardens, Mexican wrestlers, the short stories of Haruki Murakami, and her own dreams and daydreams. She doodles constantly.
Eric Rewitzer was born and raised on the industrial shores of Lake Michigan. He studied at the Cleveland Institute of Art, and moved to the west coast in 1987. Eric finds constant inspiration in the scale and diversity of the California culture and landscape. Since 1997, he has been painting the streets, skies, and waters of San Francisco, drawn by the City's vital mix of natural beauty and urban grit.
Featured in Sunset Magazine, the LA Times, and Dwell Magazine, 3 Fish Studios is the creation of Annie Galvin and Eric Rewitzer, painters and printmakers, husband and wife. Together, they make original and affordable artwork, available at their studio, select boutiques (such as Panorama Framing), and online.
Shaun
Shaun Horne is a native Californian who has been surfing and studying the north coast for the past 15 years and has taken up surfboard shaping as a means to ride more waves on unique shapes. The surfboards on exhibit are the first in a series of a long-term project aimed at making a life long quiver.
"Bitchin" by Jamie Watson; "Unridden, Mavericks" by Jay Watson.
The Gallery @ Panorama Framing is proud to bring "California: Works By Creative Couples" to the Grand Lake community.
Panorama Framing, Inc. combines the practicality of professional custom picture framing with an appreciation for the art inside (and outside!) those frames. Panorama opened their doors in February 2013, and has been an emerging presence on Grand Avenue since, hosting events, rotating art shows and art receptions, and promoting Grand Avenue's First Thursdays.
California: Works By Creative Couples
March 1 – April 27, 2014
Mid-show Reception: Thursday, April 3, 2014
6:00 p.m. to 9:00 p.m.