Persistence of Vision: Art by Jon Steven Walters
January 1, 2015 @ 18:00

-

February 28, 2015 @ 18:00

Free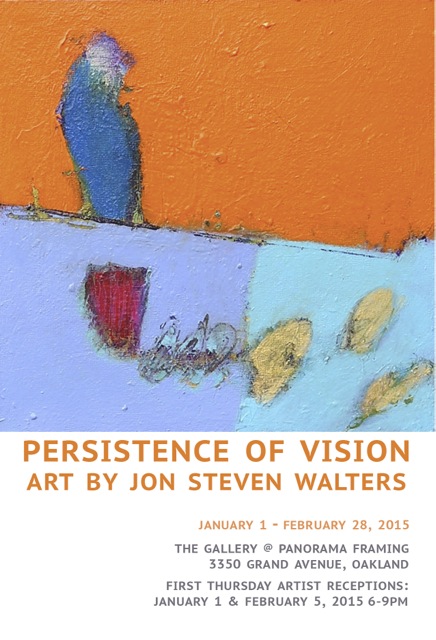 Somewhere (2012)
You are invited to imagine a universe where memories are not tethered by time, space or even eyesight – but in retinal images evoking the knowledge that what we think we see is not all there is to see. A flash of red through a hazy mix of grey/blue, the unexpected black line, all meant to surprise, jar or spark a feeling; the soft over-painting asking the viewer to come closer and explore beneath the surface.
Walters' technique juxtaposes mixed layers of media, colors and shapes to transform figures into skewed afterimages harnessed in layers of translucent paint. Harking back to inspiration from the Bay Area Figurative Movement of the 1950s-60s, Walters' spin on figuration builds depth through each layer of media, largely obscuring the under-painting creating an ethereal mix of trans-lucid landscapes on clay board canvases.
"Color is critically important, especially with my current technique of layers and layers of washes over a heavy and chaotic under painting," says Walters. Like a distant memory Walters aims to uncover his assemblages and blur the lines between figuration and abstraction. Each work is a mnemonic device in its own right: each composition related to a memory – translated by means of tactile layering and Walters' Persistence of Vision.
Born in Oakland in 1958, Jon Steven Walters grew up in Castro Valley and has lived in the Bay Area his whole life. Walters received his BFA in illustration from the Academy of Art University SF graduated in 1989 and a Master of Fine Arts in Studio Art from John F. Kennedy University in Berkeley in 2008.