"Mysteries of the Organism", New Works by Melissa Bolger, Bridget May, Kelly Correll Brown and Adrienne Heloise
January 2, 2014

-

February 23, 2014

Free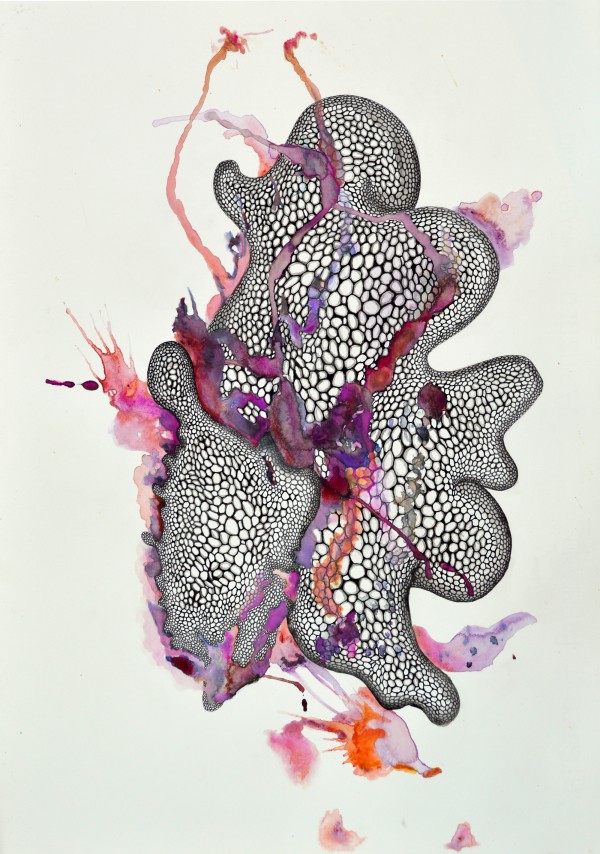 "Mysteries of the Organism"
New Works by Melissa Bolger, Bridget May, Kelly Correll Brown and Adrienne Heloise
 "Mysteries of the Organism" is a group show curated by Adrienne Heloise inspired by hypothetical packets of biological energy known as "bions", proposed  by Psychoanalyst Wilhem Reich.  Each artist has defined their own "bion" as a creative source of expression: Melissa Bolger's cellular constructions,  Bridget May's microscale explorations, Kelly Correll Brown's vastly textured "absencensapes" and Adrienne Heloise's excessive fluids; each define their individual perceptions of a mysterious world.
These four Oakland artists use the repetition and accumulation of marks and shapes to convey the many facets of an organism.  On a cellular or psychological level traditional forms are reimagined and new structures are shaped as these artists investigate unseen qualities.
The title refers to the 1971 film by Dusan Makavejev who pays homage to Wilhem Reich. Wilhelm Reich is credited with the theory of Orgone energy around 1930, a hypothetical universal life force composed of microscopic units called bions, units that can create organisms on all scales.
Melissa Bolger's "Soft Machines", examines cellular structures that are manipulated by synthetic and artificial life. Borrowing from nature and incorporating microscopic shapes, images are drawn with ink, graphite and high-key colors creating visual metaphors that insinuate synthetic manipulation explore themes of patterns within nature through the intricate application of pen and ink, gouache, and graphite.
Artist Bridget May also expands on the theme of patterns on the microscale, taking her inspiration from plant anatomy. Specifically, it was her observations of the cross-sections of stems and roots of vascular plants under a microscope that inspired her "Invisible Life" series. Her paintings employ subtle but specific use of color to create context and harmony within her work.
That which cannot be seen similarly inspires the work of Kelly Correll Brown. She will be showing work from her "Vermin" series, a conceptual exploration of perception surrounding undesirable animals, fashion, and luxury. These richly-textured pieces employ pattern and repetition generously to complement the "absencescape" a term which she uses to define the realm where observable reality is informed by imagination.
Finally, visual artist Adrienne Heloise probes the hidden worlds of human desire and vulnerability using traditional masculine iconography of glory and bravado. In her medium of intricately cut paper collagraph plates, she employs repetitive arrangement, symmetries, and extreme flourish often using the droplet as metaphor for bodily fluids to express the tension between restraint and release.
The Gallery @ Panorama Framing is proud to participate in bringing this fascinating collection to the local art community. Panorama Framing, Inc. combines the practicality of professional custom picture framing with an appreciation for the art inside (and outside!) those frames. Panorama opened their doors in February 2013, and has been an emerging presence on Grand Avenue since, hosting events, rotating art shows and art receptions, and promoting Grand Avenue's First Thursdays.
Mysteries of the Organism
January 2 – February 23, 2013
Opening Reception: Thursday, January 2nd, 2014
Mid-show Reception: Thursday, February 6th, 2014
6:00 p.m. to 9:00 p.m.
Melissa Louise Bolger
Bridget May
Kelly Correll Brown
Adrienne Heloise (Curator)