Mid-show Reception for "Distant Sun": Work by Raymond Wong
August 1, 2013 @ 18:00

-

21:00

Free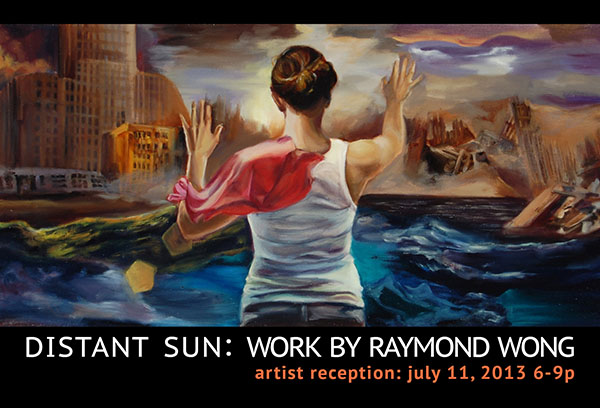 "Distant Sun"

A Solo Exhibition of Paintings and Collage by Raymond Wong

In this series of paintings and collages, I present the viewer with dystopian scenes. I draw inspiration from science fiction films and novels. Just as movies and books tell stories, my pictorial work pieces together a fractured narrative.

"Distant Sun" utilizes photographs found in magazines, brochures and art catalogs. These fragmented source materials serve as ingredients for painting as well as stand alone collages. One goal is to create scenes that are exotic yet familiar. The pictures are never fully planned. Materials guide the path of each composition. Collage works focus on environments while the paintings give the viewer a closer look at the inhabitants of a future world.

The images are fantastic while addressing real world concerns. Like many science fiction fanatics, I am obsessed with the consequence of human action. Fractured skies and jagged buildings seen in my collages suggest a struggle between man and nature. Painted figures are engulfed by their environments. Many figures are pieced together from odd clothing with visible seams between body parts suggesting a dormant insanity within us. Now, we are unable to see it but when the wheel breaks loose the distortion becomes the norm. It is a bleak outlook on the future but I expect the viewer to discover beauty in the scenes.

Biography

Raymond Wong studied fine arts at CSU East Bay and graduated with a BFA in 2007. He draws inspiration from science fiction films and novels. His work has been shown at the LoBot Gallery, Oakland and the Asian Art Museum as part of the Matcha: Taking up Space event. From 2010-2012, Wong was a resident artist at Root Division, a community arts and education organization in San Francisco. He currently maintains his art practice at Autobody Fine Art in Alameda.