Panorama Framing's Newsletter: June 29, 2013
July happenings & more at Panorama Framing, Inc.!
Well, July 4 marks the First Thursday of the month, so Panorama Framing and the other galleries & merchants will be taking a holiday from First Thursday events. Make sure to head on over to GrandAvenueFirstThursdays.com to keep up to date with future First Thursdays.
Panorama Framing will actually take the whole day off, July 4th, to ponder the meaning of freedom, and the meaning of BBQ. We'll see you on the 5th and beyond! Happy Day of Independence to you. 🙂
Read on for what's coming to the Gallery @ Panorama Framing, July's art opening event, and picture framing related things… Enjoy!
---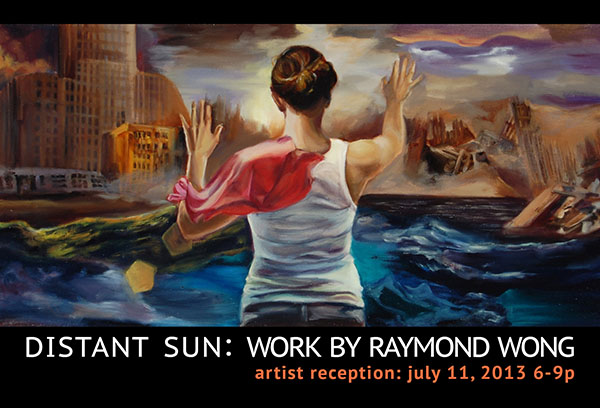 In the Gallery @ Panorama Framing in July is "Distant Sun", featuring works by Raymond Wong. Be sure to join us on Thursday, July 11 from 6-9PM, to meet the artist & celebrate the show!
"Distant Sun" utilizes photographs found in magazines, brochures and art catalogs. These fragmented source materials serve as ingredients for painting as well as stand alone collages. In these dystopian scenes, Raymond draws inspiration from science fiction films and novels. Just as movies and books tell stories, Raymond's pictorial work pieces together a fractured narrative.
Come to The Gallery at Panorama Framing from 6:00-9:00PM on July 11, meet Raymond, enjoy beverages & snacks, and maybe find a piece to fall in love with and take home. 🙂 "Distant Sun" will be on view in the Gallery @ Panorama through August.
---
The Gallery @ Panorama Framing is currently showing "The Lost Toys" by Kevin Keul — This is the last weekend for the show, so be sure to come on over!
---
Oh right, we do Custom Picture Framing! Customers bring in a lot of fun & interesting things to frame. Pictured above are a few recent framing projects Panorama got to create…
Shadowboxes are always neat to work on, as they usually showcase something unique — like the plaster cast above, which is a topographical representation of San Francisco. Also from San Francisco is the "I Love You California" print from 3 Fish Studios, bound for a client's office wall. Expect to see more from 3 Fish Studios, for sale at Panorama, soon.
The middle piece is the first one of its kind out of the PFI shop: The frame is reclaimed redwood siding which we sourced locally. A little routing and a little mitering, and the frame with its natural, heavy patina looks perfect around this limited edition print which a customer brought in.
If you have something unique or special to you, and you want an inventive and cool way to display it — come on in and talk to Patrick at Panorama! 🙂
---
End-Notes: Panorama Framing is open Wednesday through Sunday, with other days available by appointment! We look forward to seeing you at our fourth Art Show opening on July 11, 2013: Raymond Wong's "Distant Sun", on view through August. 🙂
Panorama Framing's storefront is at 3350 Grand Avenue, right next to Mischer Chocolates and up the street from Boot & Shoe Service. Call Panorama at (510) 629-1918 & ask for Patrick, or visit Panorama's friendly Web site at: http://www.panoramaframing.com
Thanks for listening, and we hope to see you soon!
Patrick (& the rest of the Panorama Framing, Inc. crew)