Panorama Framing's Newsletter: August 26, 2013
September events & more at Panorama Framing, Inc.!
Hi Folks!
September is coming up! For Panorama Framing, that means we're hosting an Artist Reception, and taking part in First Thursdays on Grand Avenue with other galleries and merchants. 🙂
But, what does that mean for you? Why, A stroll down or up Grand Avenue, filled with art, wine, snacks, music, and more! Head on over to GrandAvenueFirstThursdays.com to see what's in store this First Thursday! 🙂
Read on for what's coming to the Gallery @ Panorama Framing, September's artist reception event, and picture framing related things… Enjoy!
---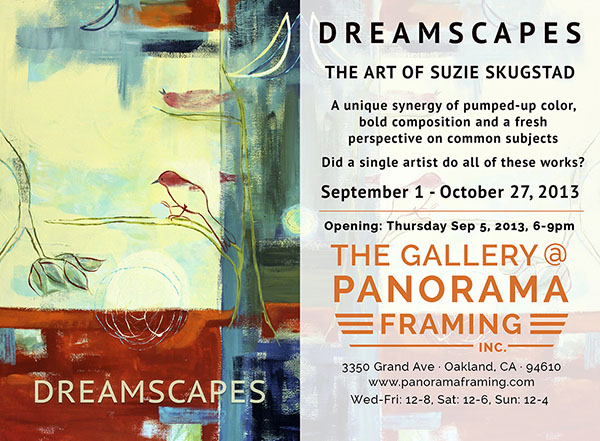 Panorama continues its "First Thursday" nights with September's Art Show Opening event: "Dreamscapes", featuring original paintings by Piedmont artist Suzie Skugstad. Join us on Thursday, September 5 from 6-9PM, to celebrate the show with Suzie and Panorama!
Suzie's approachable, quirky style garners an immediate emotional response from viewers, and has been well-received at several exhibitions at the Piedmont Center for the Arts. She is starting her 12th year as an art teacher at Wildwood Elementary School. Suzie draws on her background as a graphic designer and gains inspiration from her young students.
---
Panorama Framing is excited to now be carrying fine linocut & letterpress prints from Oakland local Reb Peters Press, plus prints, cards and more from 3 Fish Studios in San Francisco.
The prints are proving popular, so stop in Panorama's storefront at 3350 Grand Avenue soon, and claim your piece of handprinted Love. 🙂
In addition to prints from 3 Fish Studios & Reb Peters Press, don't forget that Panorama also showcases and carries other beautiful, functional art for your home — Ceramics from Kylix Design and Sara Paloma Pottery, finely crafted wood seating from Laurence Gandsey, and more!
---
Of course, we still provide Custom Picture Framing! 😉 In addition to carrying moulding lines from Roma, Larson-Juhl, Nurre Caxton (and more!), Panorama now offers acrylic frames from Prisma (pictured above, center).
Choose a pattern, choose a color, choose a shape and let us have a super fun and unique frame custom made for your art piece! The permutations are endless…
If you have something unique or special to you, and you want an inventive and cool way to display it — come on in and talk to Patrick at Panorama! 🙂
---
Continuing through August in the Gallery @ Panorama Framing is "Distant Sun", featuring works by Raymond Wong. Distant Sun received a favorable sidebar review in the East Bay Express — Be sure to come by the Gallery before the end of August to see Raymond's work!
---
We look forward to seeing you at the Artist Reception on Thursday September 5, 2013 for Suzie Skugstad's "Dreamscapes", on view through October. 🙂
Thanks for listening, and we hope to see you soon!
Patrick (& the rest of the Panorama Framing, Inc. crew)
PS: Want to see an interactive, 360° view of Panorama & the Gallery? Check out Jeremy Fukunaga's virtual tour at Panorama's site!